June 11, 2019
Why RAID 5/6 shouldn't be used in today's dedicated servers.
In my first article to launch the 1GServers Blog, I wanted to discuss a question that frequently gets brought up: Should I use RAID 5/6 on my dedicated server? The answer to that, in my opinion, is a hard NO, and I'll elaborate further on why I think that.
It might be tempting to want to choose to rely on parity based RAID 5/6 for your disk storage, and I don't blame you. It does offer increased disk space compared to RAID 10, for example. In some cases, it can outperform other RAID types. However, there are some serious drawbacks that have a high probability of haunting you.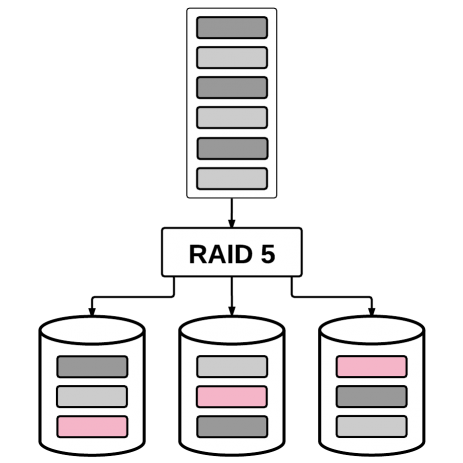 Why shouldn't I use RAID 5 or 6?
Write amplification: SSD drive's have a limit on the number of times data can be written and re-written to any particular block. Because of this limitation, it is important to not write data any more frequently than necessary. Parity based RAID such as level 5 and 6 cause write amplification to occur, which will reduce the SSD lifespan.
Long rebuild time: Parity based RAID suffers from what can be a painfully slow rebuild time. This is due to the parity calculations that need to occur, which incurs a processing penalty for each write. In fact, when you encounter a disk failure and need to rebuild the array, there is a high chance of it taking so long that you may lose an additional disk in the array. When that occurs, the data is gone and cannot be recovered.
Poor random data write performance: Every write request requires data to be written to each member device of the RAID. Add in parity calculation delay and it adds up to a slow experience when writing data.
Added disk space not necessary: Because hard drive and SSD capacities have increased so much over the past few years, the extra disk space advantage of Raid 5/6 is less of a concern than it has been. This makes RAID 10 the better choice in many cases.
What should I be using instead of RAID 5/6?
Ultimately, what RAID level you choose to go with, greatly depends upon your needs. In a lot of cases, I recommend RAID 10. It offers very high performance, along with the redundancy you're looking for. In other cases, RAID 1 is best.
If you're looking for a dedicated server, and you're not sure which RAID level to choose, feel free to contact 1GServers.com. We'll help guide you to the RAID level and hardware options that best suits your needs.