June 25, 2019
Why choose a 10Gbps dedicated server from 1GServers.com?
For a few years, a dedicated server with a 1Gbps uplink has been standard. Prior to that, most dedicated servers were limited to either 10mbps or 100mbps uplinks. As bandwidth usage trends continue to rise each year, with the advent of streaming media and other bandwidth intensive applications becoming the norm, it's important to be able to deliver your content to the end user as quickly and efficiently as possible.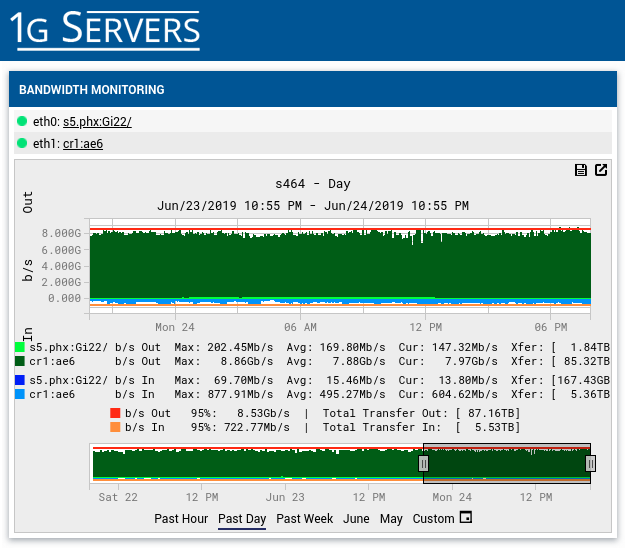 Simply having a server with a 10Gbps uplink isn't good enough though. It needs to be connected to a top of rack switch that has sufficient backbone capacity to the core to support all the traffic. Not only your traffic, but everyone else's too. It doesn't stop there, either. That same top of rack switch needs redundant pathways to the core. At the core of the network, there also needs to also be ample & redundant capacity to the Internet backbones to support 10Gbps+ speeds.
It's not just about having sufficient capacity, though. There needs to be assurances that the traffic is getting to it's destination (the end user) as efficiently as possible – meaning the shortest path possible. Nobody likes buffering videos, or a sluggish website or app, so it is important to be on a smart network that is optimized, that continuously tests the pathways to the end user to find the best route to take and will automatically route around any issues it finds.

10Gbps dedicated servers from 1GServers.com do just that! Here's how we do it:
Fiber Optic 10G Top Of Rack Switches
Our 10Gbps dedicated servers are connected using fiber optic connections for maximum performance.
100Gbps To The Network Core
All 10G top of rack switches have redundant 100Gbps fiber optic uplinks to the core of our network. This increases uptime and keeps the network congestion free.
Smart Network Core
The core of our network is comprised of redundant Juniper carrier-class routers. Each core router has redundant connections to the Internet backbones of multiple Internet carriers. For best performance, we also utilize BGP route optimization technology to select the best path to each end user.
What is BGP route optimization technology?
Simply put, it adds artificial intelligence to our network. It's what makes our smart core, smart, by choosing the shortest & best performing path for each end user. This is determined by probing each carrier we connect with to the end-user network. Then, our technology analyzes the results of the tests for latency and packet loss, then chooses the best performing pathway for that end user.
This is how 1GServers.com adds value to your 10Gbps dedicated server. Your server will benefit from:
Faster page load times
Faster video buffering times
Increased uptime
If you have a website or app that requires 10Gbps or more of capacity, 1GServers.com provides the best performance for the best price. To get started with a 10Gbps server with 1GServers, follow one of these links:
Have questions? Contact us today for a review of your needs, and we'll match you with a solution that's right for you.